Commercial Mortgage Rates Dip
Fixed commercial mortgage rates dipped as a result of lower 10 year treasuries. The 10 year treasury rate fell in June to 4.88%. Ten year treasuries have been above 5.00% since 1967 except for a period in 1998 and again briefly during 2001. For the past 18 months, they have hovered around 5.00%.
Commercial mortgage rates are directly and indirectly tied to this benchmark. Typically spreads (differences) above the same length treasuries are 1.30% to 3.50% higher depending on the quality of the deal. The best rated deals will have mortgage rates of 1.30% to 2.00% above treasuries, so deals in this category will have mortgage rates of 6.18% to 6.88%.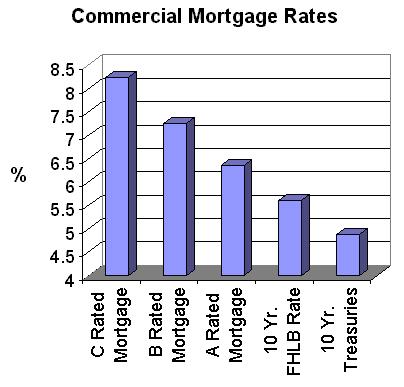 On the low end of the quality scale, mortgages on lower rated properties are often based on Federal Home Loan Board (FHLB) rates plus 2.00% to 3.00% spreads. Currently, 10 year FHLB rates are 5.60%, so mortgage rates for lower quality properties will run 7.60% to 8.60%.
For those who donít think rates are going up soon, they may want to take advantage of an extremely low prime rate of 4.75%. Often floating rate mortgage loans are tied to this index plus a 1.50% to 2.50% spread. So floating rate loans will be cheaper than fixed rate loans if all else is equal.


Stephen Traub, ASA
Publisher, PVM SM
The author, Stephen Traub, ASA, is Chief Commercial Appraiser for Property Valuation Advisors, Newburyport, MA. He is a certified general appraiser in NH, ME and MA. He can be reached at 978-462-4347 or:
by e-mail:

straub@shore.net
---
| PVM Summer 2002 story menu | PVM archive menu | PVM's intro page | PVA's Free RE Publication menu | Property Valuation Advisors front page |
---

Copyright © 2002 Property Valuation Advisors, Newburyport, MA. All rights reserved. Disclaimer
---